About 30 minutes distance
by car from the Nagasaki city center.
The resort with spectacular nature and the touching
entertainment is awaiting.
Ioujima island is 12km around, combine with 2 small island – Okinoshima and Ioujima, where you cannot see any traffic signal, and will feel the time slowly. The island is full with activities – the marine activities such as SUP surfing, sea kayak – rental cycle and Segway riding, the time you have will never be enough to enjoy all the entertainment and the nature.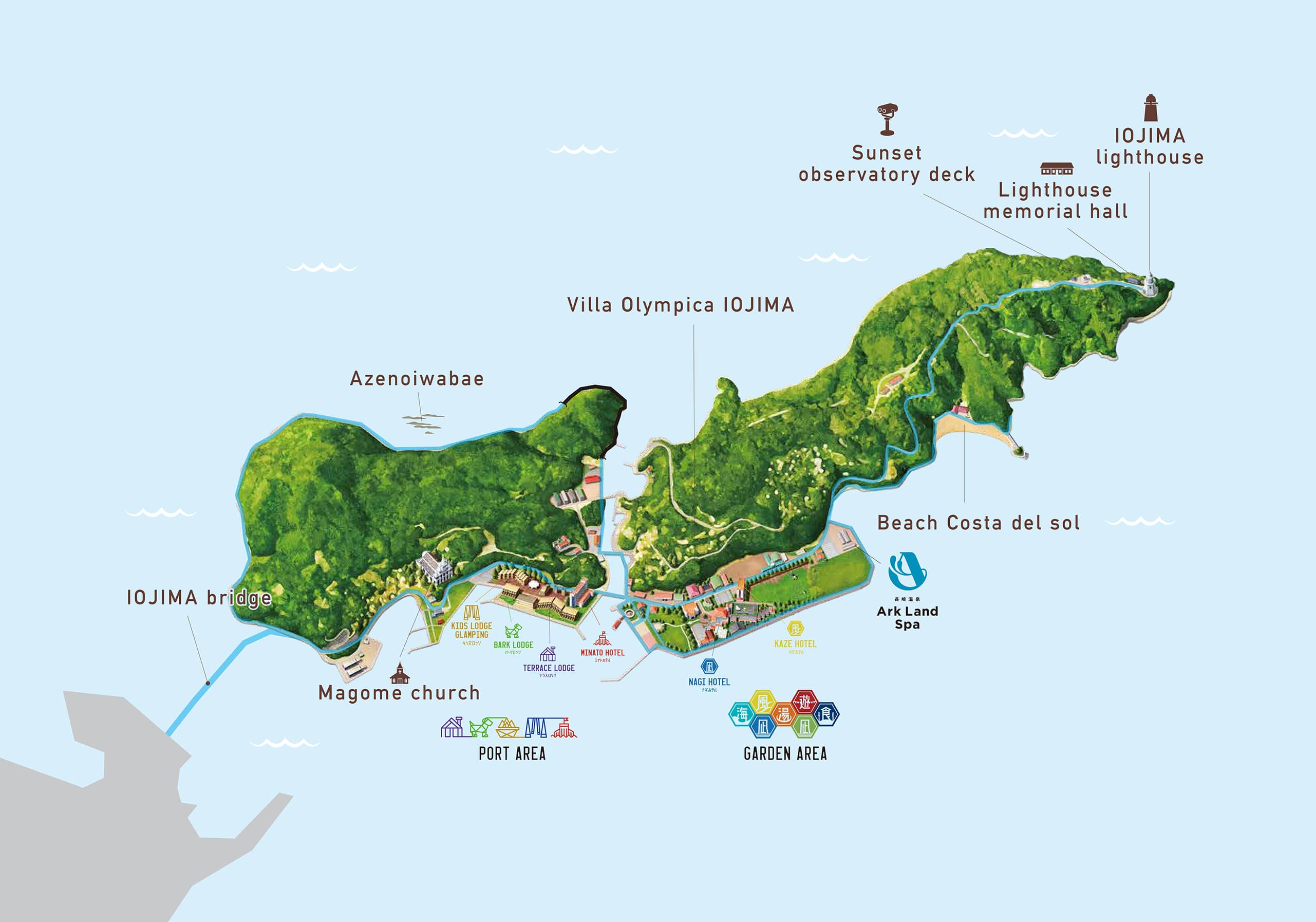 Stay

&

Rooms
Spacious guest rooms with an ocean view of
which can be selected based on your style of travel.
Guest rooms that can be selected based on your lifestyle and purpose of use.
Please make yourself at ease in a leisurely manner with picturesque views of the ocean and a comfortable space that fits your travel.
PORT AREA

Each guest room has an ocean view, as well as furniture and space that fit pairs of travelers. There are also rooms for families.
PORT AREA

Be with your beloved dog all the day. Let them play to their heart's content on a dog park with natural grass and a total length of 80m.
PORT AREA

Infinite excitement. Glamping that can be enjoyed by children and adults! Feel cozy in a guest room that is like a secret hideout
GARDEN AREA

Peaceful moments swinging in a hammock while listening to the soothing sounds of the waves.
GARDEN AREA

Enjoy a relaxing time in a spacious guest room barrier-free. It can also be used by guests with small children and guests who use wheelchairs
PORT AREA

The Western guest room with an ocean view that can be used by up to 6 guests is also perfect for group travel. Spend memorable times.
Food

&

Drink
A Japanese style restaurant where you can savor seasonal delicacies, with a focus on seafood that is in season

OPENING HOURS

Breakfast:7:00~10:00
Lunch:11:00~14:30PDF
Dinner:17:00~21:30
An indoor grill restaurant where you can enjoy a selection of savory sashimi that is in season, delicately selected meat, and seasonal hot pots.

OPENING HOURS

Breakfast:7:00~10:00
Dinner:17:00~21:30
A buffet restaurant with a sweeping view of the port of Iojima from large windows.

OPENING HOURS
A dining hall where you can casually enjoy the exquisite local delicacy "nosemeshi," seafood rice bowls, and udon noodles.
"Nosemeshi" is a rice bowl with a diverse choice of toppings from local ingredients.

OPENING HOURS
Feel at ease under a tent roof that blocks the summer sun and rain while enjoying a BBQ and the expansive view of the ocean in front of your eyes.

OPENING HOURS

Lunch:11:00~14:30
Dinner:17:00~21:30
A bakery that uses selected ingredients to bake loaves of bread and brioche daily.

OPENING HOURS
Enjoy a variety of menu items at ARK DINER on the island, which feels like a delicatessen.

OPENING HOURS
Spa

&

Relaxation
Order soothing menu items that are a bit more luxurious than usual while enjoying the feeling of a resort
Please experience numerous soothing menu items that you can experience all day without getting bored
GARDEN AREA

Ark Land Spa スパテーマパーク

The all-weather "Spa Theme Park" that you can enjoy in a bathing suit all the year or around the year.
GARDEN AREA

Ark Land Spa 大浴場

Enjoy the best moments while being surrounded by the emerald green ocean and feeling the island breeze.
GARDEN AREA

Family Private Bath

Fully equipped with a sauna and rest area. Truly enjoy a natural hot spring in a private space.
PORT AREA

MINATO SPA 岩盤TERRACE

A healing lounge with 3 hot stone spas that you can select based on their effects or your feelings, with 10,000 Japanese comics.
GARDEN AREA

YUYU SPA

A large communal bath that is fed directly by an in-house natural hot spring that gently retains your skin's moisture.
PORT AREA

タイ式ハーブテント

A steam sauna tent with medicinal properties of over 20 types of Thai herbs
GARDEN AREA

海風そよぐ島のひだまり

Tranquil relaxation to gently ease fatigue from daily life
Play

&

Activity
Freely run around the island to make everlasting memories.
Freely run around the island to make everlasting memories.
SUP

SUP allows you to enjoy the ocean breeze that is only available on islands. There are also courses for beginners
NAGASAKI WATER ISLAND

Limited Offer! let's enjoy thrilling experiences at gigantic floating entertainment!
Cookie

Up to 3 guests! You will be towed by a water scooter and have fun gliding on the surface of the ocean !
Bicycle rental

Iojima is full of Photogenic spots! Go around Iojima while feeling the sea breeze
Rental fishing

The highly transparent ocean of Iojima is just like an aquarium. A fishing experience that can even be enjoyed by small children.
PLAY KIDS LAND

The indoor kids' land is completely open for fun. Run around in a spacious room.
VILLA OLIMPICA

Let's move your body to the fullest without worrying about the weather with 12 sports that you can play freely.
Activity inquiry
Contact us by email

Contact us by telephone
+81-95-898-2202
Entertainment resort『i+Land nagasaki』
Address : 1-3277-7 Ioujima-machi Nagasaki City ,Nagasaki, Japan 851-1201
TEL : +81-95-898-2202
FAX : +81-95-898-2204
BY TRAIN

BY BUS

BY AIRPLANE
BY TRAIN
We have a free shuttle bus service from Nagasaki station.

BY BUS
We have a free shuttle bus service from Nagasaki station.Reservation Required (Same- day reservations are available).Please check the bus stop and time table.

※Bus stop will differ depending on the time.
※Bus will be late depends on the traffic congestion.
※Capacity:40 seats. By reservation-only.You need to book in advance.
BY AIRPLANE
Please take airport limousine bus to Nagasaki Station,and transfer to our free shuttle bus. Please be sure to book in advance.

※※Limousine bus bound for Nagasaki airport is operating by the Dejima road. (1,000 JPY for one way)
※※Free shuttle bus could be late due to traffic situation.